Winchester remembers those who fought in World War II with its limited-edition Victory Series.
Growing up I was infatuated with those who fought in World War II. This was largely driven by knowing my father was a paratrooper Winchester Limited-Edition, which was about all he told me until later in life. Still, I wanted to know what he experienced. My imagination led to my collection of every type of plastic army man, including the complete collection of original G.I. Joe figures with their equipment. I had a plastic M1, and even went so far as to build a wooden M1919 Browning machine gun with just a broom handle, plywood and balsa wood for the sights. I played army constantly.
As an adult, I acquired a number of World War II firearms and equipment. In the last 10 years of my father's life, I found out more about what he did in the war and where he served, and realized there were plenty of reasons to call him a hero. Such personal sentiments are why those like me get excited when we hear that Winchester is releasing its World War II Victory Series of ammunition. Initial offerings appeared in the summer of 2018 with the first being in .45 Automactic Colt Pistol (ACP) and .30-­'06 Springfield. Next, Winchester will launch a .30 Carbine load designed for the M1 Carbine, as well as a 12-­gauge shotgun load in the summer and fall of 2019.
It is fitting that Winchester would choose to offer a World War II commemorative line since Winchester's contributions to the war effort were huge. During the course of the war, Winchester produced 1.5 billion rounds of small arms ammunition. They also designed and produced 828,029 M1 Carbines and 1,018,772 M1 Garands. The entire Winchester production capability was converted to war production during those years.
Winchester has said that they designed the new Victory Series ammunition to period-­specifications, and as it was issued to the military. All loads use reproductions of military specification projectiles which makes these cartridges more special than if they were a repackaged box of another load. Cartridge cases have period-­correct headstamps, and Winchester even reproduced the original carboard boxes with similar box labeling. The ammo box is packaged in a very handsome wooden box, which offers cardboard protection. It would have been a lot easier (and cheaper) for Winchester to use similar, currently available projectiles and current production cartridge cases, but it appears they went the extra mile to be authentic. Let's look at specific loadings and see how close they came to the originals.
.45 ACP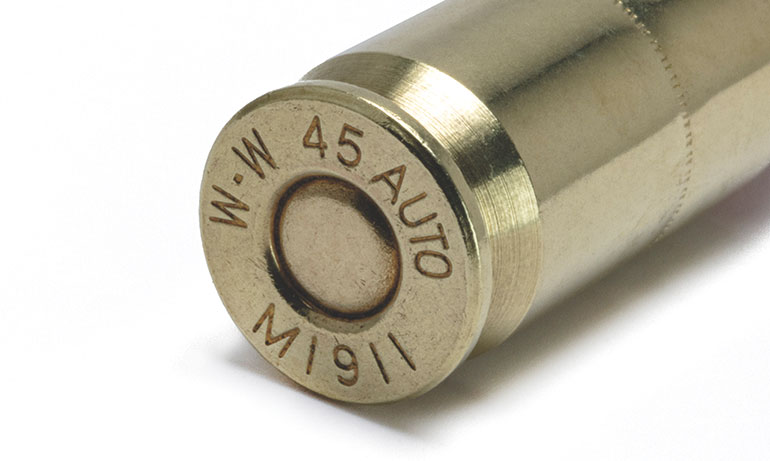 The .45-­Caliber Ball M1911 round was used in the M1911/A1 semiautomatic pistol, as was the M1917 revolver, the M3 Grease gun, the M1928/A1 and the M1/A1 Thompson. The .45-­caliber Ball was adopted in 1911 along with the Colt Model 1911 pistol. At the time, the U.S. Army wanted a load that would match the performance of the Colt Single Action Army and its .45 Colt cartridge.
Winchester's Victory Series is loaded with a 230-­grain Ball projectile featuring the original M1911 projectile's full-radius ogive profile. This is significant because the bullet profile should feed in virtually any M1911 or M1911A1 pistol. The Victory ammunition samples I evaluated had 4.8 grains of a flake propellant, which is right on for the original ammo's loading specifications. Initial specification ammo performance was 885 feet per second (fps) measured 25½ feet from the muzzle. Winchester's advertised muzzle velocity of the Victory load is 855 fps, slightly slower than its original predecessor. (Even today, the U.S. Army does not measure ammo velocity at standard distances from the muzzle in the same way that Sporting Arms and Ammunition Manufacturers' Institute (SAAMI) does. Why the Army specified these measurement distances is unknown to Guns & Ammo, but if you know why,
.30 Carbine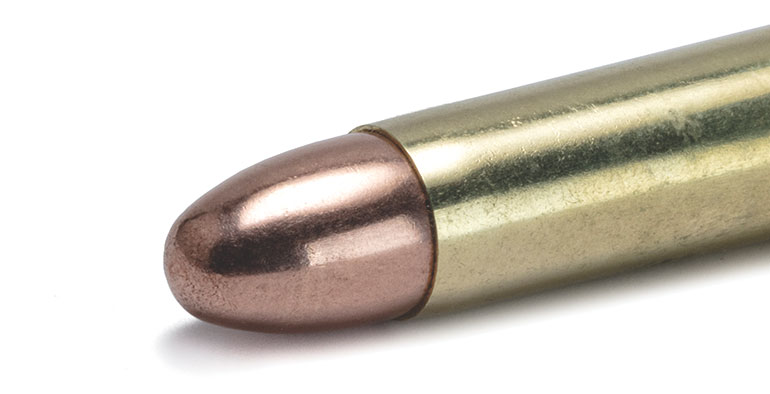 The M1 Carbine and .30 Carbine Ball M1 ammo were both designed at Winchester and adopted by the U.S. Army in 1941. The M1 Carbine concept's goal was to provide rear echelon troops with an effective solution for longer ranges than a sidearm was capable of delivering. The M1 Carbine also quickly became a favorite among troops due to its light weight and ease of carry.
The original 1941 loading specifications for the .30 Carbine Ball M1 was a 110-­grain projectile fired at 1,900 fps, measured at 53 feet from the muzzle and corresponding to a muzzle velocity of 1,965 fps. The advertised performance of the Victory load is 1,975 fps at the muzzle. This load is right on top of the original specification. The Victory ammo was loaded with 14.5-­ grains of Ball powder. This charge weight is a little above the original specification, but it is appropriate for the propellants available today. Additionally, Winchester's new Victory ammunition reproduces the same ogive profile as the original projectiles.
---
---
12 Gauge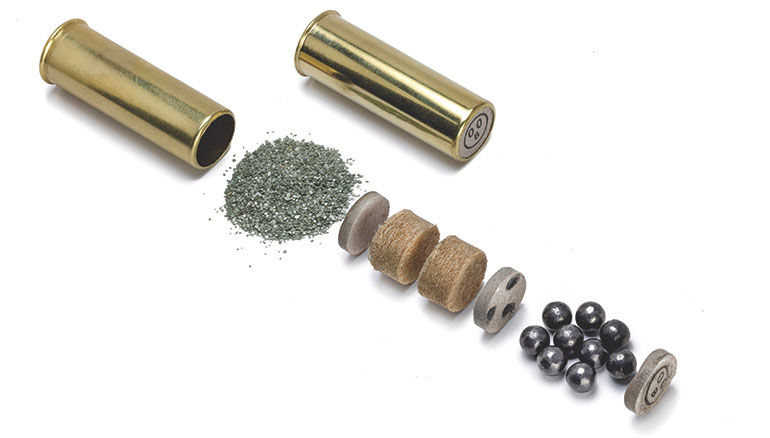 This is perhaps the most interesting load in the Victory Series. The M97 Trench shotgun was widely used and extremely effective in the trench warfare of World War I. Initial ammunition issued during the war used paper hulls. These quickly proved to be unreliable in the damp, wet trench environment. The U.S. Army then converted to an all-­brass hull, solving the problem of ammo reliability. The Army went through the same exercise in World War II, quickly changing from paper to the M19 all-­brass hull load for their M97 and M37 shotguns. The 00 buckshot loads also proved very effective in the jungles of the Pacific Theater.
The Victory Series 12 gage M19 load is a faithful reproduction of the World War II-­issue M19 round. (Note, the word "gauge" is spelled "gage" here, as that's how it appeared on the ammunition packaging used through World War II.) The load features an all-­brass 2¾-­inch hull and nine pellets of oversize 00 buckshot to help account for the fact that there isn't a wad like the original had. Muzzle velocity for Winchester's Victory load is advertised at 1,100 fps. The loading specification for the original M19 load was 1,125 fps measured 3 feet from the muzzle, and is a near-­duplicate of the original, right down to the cardboard. Anyone who has an interest in World War II ammo should have at least one box of the new 12-­gage M19 load just because of how cool the all-­brass hulls are.
At the Range
For this evaluation, I used a 1911A1 Government, a M1 Carbine (1944 Model), and a M37 Trench shotgun, all produced and offered by Inland Manufacturing . All guns functioned flawlessly, and I experienced no malfunctions. Worth noting, I found the fidelity of reproduction, fit, finish and workmanship of the Inland Manufacturing firearms to be at a very high level.

The .45 Ball M1911 load shot very close to the advertised velocities and was about as accurate as I would expect from a stock M1911A1 with a very heavy trigger.

Winchester's new Victory Series .30 Carbine Ball M1 ammo was significantly faster than advertised, and faster than GI-­issue Ball M1 produced by Lake City in 1972. The Lake City ammo I shot for comparison proved nearly identical to military specification for velocity. Furthermore, I found Winchester's Victory load to be less accurate than I would've expected from a tight-­and-­fresh barreled M1 Carbine.

The 12-gage M19 load produced velocities as advertised and were nearly at the original specification. It's very interesting to shoot because the M19 shows how far shotshell ammunition has come. The load patterned inconsistently with usually three to five pellets printing all together, and three or four spread apart from these. This was not a surprise considering the technology back in the day, but illustrates the accurate reproduction of the original shotshell structure.
To Conclude
If you are a World War II history buff or firearms enthusiast, add a box of each Victory Series load to your ammo collection. Currently, the Victory Series is a limited ­edition, so get them while they're still available. Overall, Winchester did an outstanding job of recreating these loads. Winchester has done themselves proud with this line of ammunition. It is a worthy tribute to the veterans of World War II.